Argo Cafe
We are a diner that has been around since 1954 and has since evolved.
Sometime in 2004, Chef Denis Larouche and brother in-law Kirby Wong came together and turned this greasy spoon into something like no other in Vancouver. We offer a wide variety of dishes from grilled cheese sandwiches, real beef burgers (unprocessed),  and roasted turkey clubhouse  to a sesame crusted tuna papaya salad, sirloin steak with peppercorn sauce to even full sized salad meals. This is "slow food, FAST!!!"  All for an affordable price.
Downtown food, at an East Van price.
A must try is our conqueso, hand cut fries, carbonara, and the complimentary soup that comes with every meal.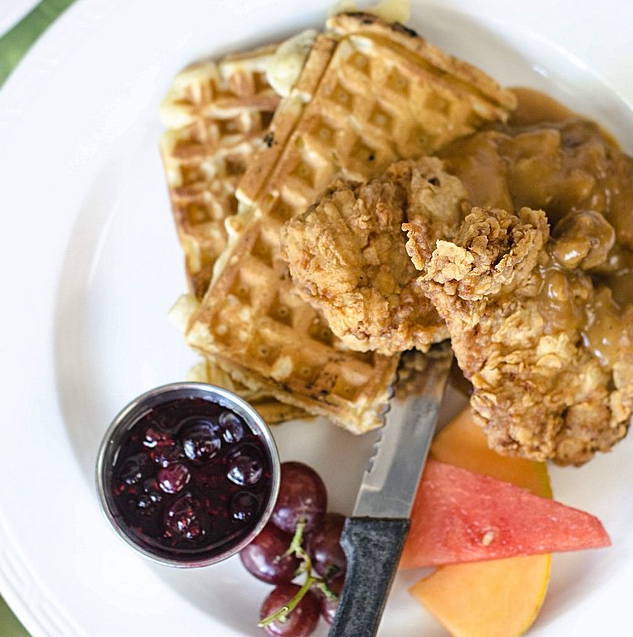 Holiday Hours: Argo Cafe Will Be Closed From December 22, 2017 to January 8, 2018  Our Brunch Service Will Resume January 27, 2018   Have a Happy Safe Holiday Season See you in the new year!
Eggs Benedict – ham, poached eggs, home fries, hollandaise sauce   13.95
Con Quest Eggs – stewed peppers, cheesy sauce, avocado 13.95
Fried Chicken n' Waffles – home fries, syrup, gravy 15.95
Argo's Best Burger –  cheese, bacon, fried egg, fried onions, fries 13.95
NY Steak n' Egg – home fries, toast, veggies, mushroom sauce 15.95
Chicken n' Chorizo Pasta – rose sauce, garlic toast 15.95
Grilled Ling Cod – veggies, home fries, anchovy lemon caper butter 15.95
Lemon Parmesan Salmon – veggies, home fries, lemon butter 15.95
Cajun Rockfish – veggies, home fries, tomato butter 15.95
OMG where have you been all my life? I am ashamed to say that a foodie like myself just discovered this place today.
Shila B.
Hours
Monday – Friday:
Breakfast Daily 7am-11am
Lunch Daily 11am-4pm
General hours: 7am – 4pm
Brunch from 8am till 2pm on Saturdays
Cash & Debit Only
1836 Ontario Street
Vancouver, BC V5T2W6
604 876-3620